We have many Modular System Buildings available in stock and ready for delivery and installation. Look at our website or call us to discuss your bespoke requirements.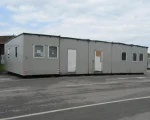 Twin Classroom Block comprising of 5 no modules, overall size approximately 15m x 8.5m. Available to purchase as is condition for £20,000 plus vat or approximately £45,000 plus vat fully refurbished. Delivery and installation are priced in addition to this and are site and location specific.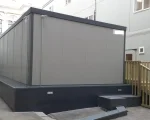 13 bay modular building available. A fire rated, watertight, lined and insulated document store. Please see layout drawing attached. Viewing is recommended before purchase. Price quoted as is.
What Are Modular Buildings?
Modular Buildings or Modular Constructions are buildings that have been constructed off-site, ready to be positioned into their final destination with little impact to the general area. Due to the building being constructed off-site, there is no need for long times of obstruction for staff, residents or road closures, that you would see with a normal building construction.
How Modular Buildings Are Constructed?
Modular buildings are constructed using the same materials and design methods any regular building would use. They must meet and adhere to the same codes and standards as conventional buildings and facilities.
At CabinsGB, we use a variety of methods to construct our modular buildings, from building them from scratch meeting the design specification or using pre-existing modular buildings and cabins and re-purposing them to a bespoke requirement.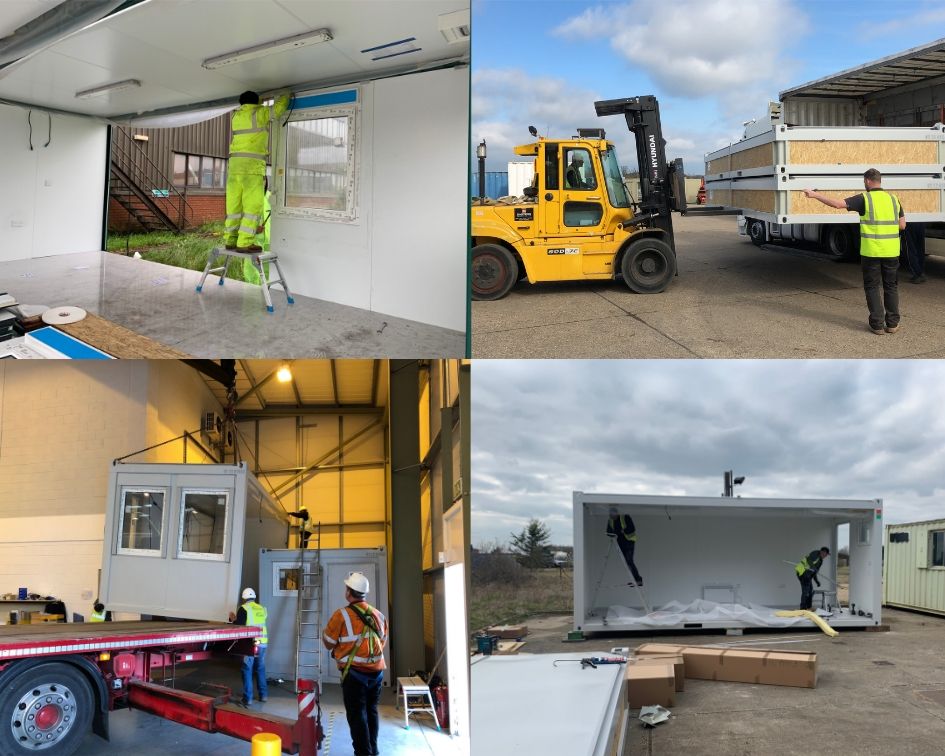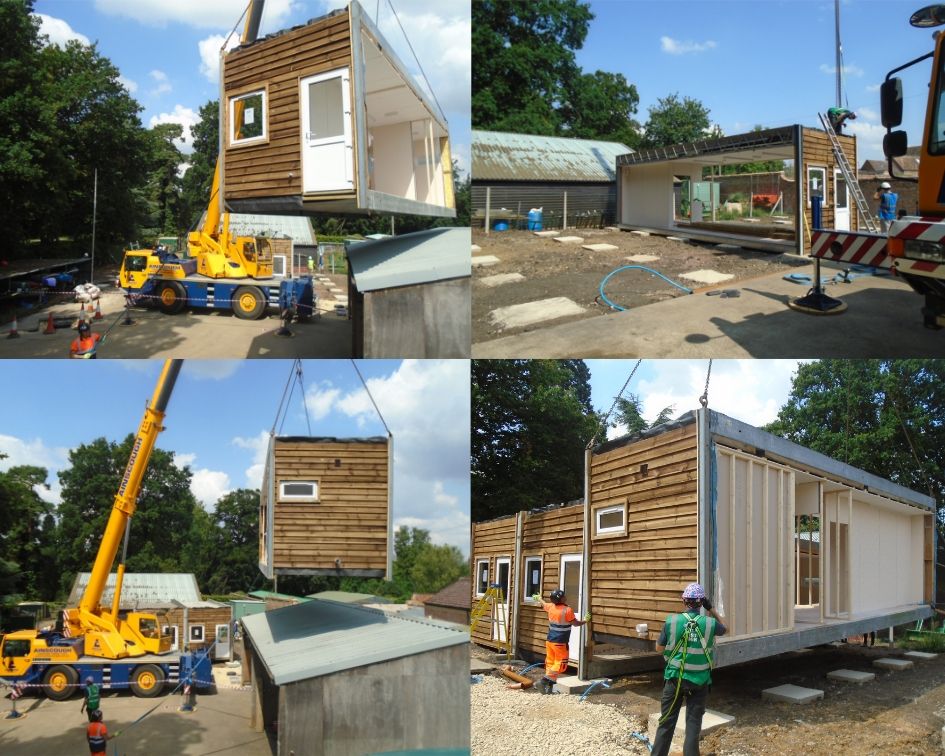 Our team have worked on some of the biggest construction projects in the UK and have a combined experience of over 100 years in the Modular Building industry.
What Are Modular Buildings Made Of?
Modular buildings are built using a variety of materials, which are dependent on the design brief and specification. Modular builds can be constructed using a variety of materials such as shipping containers, metal sheets, metal cladding, wood framework, concrete, plasterboards, insulation and more. All material must meet industry standards and conventional building standards and codes.
How Long Do Modular Buildings Last?
Modular Buildings are made to endure all weathers and the busy demand that is expected of them within an active work environment. Modular buildings require occasional maintenance to uphold and stay protected against the elements.
How Much Do Modular Buildings Cost?
The cost of a modular building can vary depending on the requirements and specifications laid out to us. Having a modular building does not need to be expensive and at CabinsGb, we offer many of our buildings on a weekly rental basis, which can reduce immediate costs considerably. Please contact us with your requirements and we can produce a quote.
Are Modular Buildings Safe to Build?
Modular buildings are safer to build as the majority of the building is pre-built on our premises, rather than yours. This means there are less risks and liabilties for staff and workers and reduced accidents.
Can Modular Buildings be Extended at a Later Date?
Yes! - That is the great thing about a modular building design in that you can addon additional rooms, or segment existing rooms. There are limitless opportunities to having a modular building.
Modular is the Future
Modular buildings are a great way to add additional space with minimal costs and environmental impact. They are essential for any modern business to adapt and change. Modular buildings make is much easier for a business to relocate to reduce costs or meet new demands based on location.
Modular buildings have a fast completion time and require less time and energy to manufacture. This reduces any enironmental impact that a regular building could cause. Modular constructions reduce the overall onsite activity, significantly reducing disruption to staff, neighbours, traffic and the environment. Businesses, local authorities and schools will benefit from the reduced on-site traffic and activity, which also reduces construction hazards and accidents. Modular buildings use significantly less materials and waste due to the pre-designed and calculated materials.