We have a whole range of cabins over 24 feet long, new and old, for sale or rent. We have many cabins available in stock, or we can besoke build one to your requirements. Contact us online or give us a call to discuss your requirements further.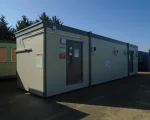 40 x 10 steel clad jackleg unit. The unit has five windows, two internal doors and two external doors. Internally, there are two open plan rooms and one electrical room. The unit has carpet flooring.
32 x 10 Timber Clad Jackleg Cabin. Featuring an external UPVC door, 3 bespoke UPVC feature windows as well as 4 standard UPVC windows. The unit has been clad with a tongue & groove cedar timber for a superior external finish. Internally, the unit has been fully refurbished with new vinyl faced plasterboard walls, ceiling and floor which is covered by wood effect lino. The unit has new electrical lighting, heating and power. This marketing suite could be utilised as a sales office or marketing suite. This unit is currently in production.
3 bay textured jackleg modular building. The building has two doors, six windows and three high levels windows. Internally, the unit is open plan. Currently in the process of being renovated so could be fitted out internal to layout of choice. Price quoted is open plan with new flooring and electric LED lighting, convector heating and power outlets.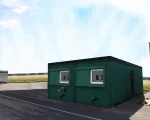 9.6m x 6m 2 bay Modular building complete with electric lighting, heating and power. Each section comes wired separately for connection to mains. Price is for an open plan box but can be fitted out with partitioning, toilets, kitchens as required at additional costs. Window and door positions are indicative subject to availability of stock. Delivery and installation can be quoted in addition and is site and locatation specific. Additional modules can be added if required.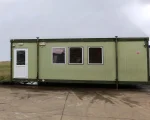 28 x 12 steel clad jackleg unit. Currently Open Plan but can be fitted ou to suit requirements. Price quoted is openplan with new electrics.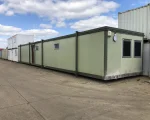 64' x 12' Jackleg Cabin complex comprising of 2 Cabins one 36' x 12' and one 28' x 12'. The layout shows the current internal configuration. This includes a 24' x 12' office and a 12' x 12' office. Off the entrance lobby and corridor are a disabled/ ladies wc, a gents wc, small kitchenette and a small store. This Cabin has currently not been refurbished so please contact the office for further pricing information or to arrange a visit to view. There are two further matching units which are mainly fitted out as offices. Overall there is the potential of approximately 2300 sq ft /214m2 of accommodation. Each building can also be split into individual cabins.
32 x 10 Thurston jackleg cabin. The unit has 1 No. steel external door and 4 No. windows covered by steel sliding shutters. Internally, the unit is open plan with vinyl flooring throughout and would be suitable to be used as an office. Fully equipped with lighting, heating, power and electrics.