We produce some of the finest marketing suites and mobile showrooms available. Our skilled carpenters construct and build the cabins to meet your needs. The marketing suites can be fitted with the latest mod cons and facilities. Available for Hire & Sale.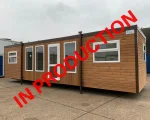 32'x10' Timber Clad Jackleg Marketing Suite. This Unit comes equipped with: 1no. Double Glazed uPVC Entrance Door, 3no. Double Glazed uPVC Feature Windows, 4no. Double Glazed uPVC Standard Windows, Wood effect Linoleum Floor and Ceiling, Vinyl faced plasterboard walls, 1no. 2kW Thermostatic Electrical Heater, Lighting, Power. This fully refurbished Marketing Suite would be very suitable as a Sales Office or a Marketing Suite. This Unit is currently in production.
Previous Marketing Suites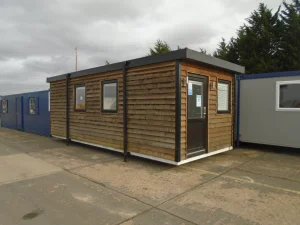 Product ID:2674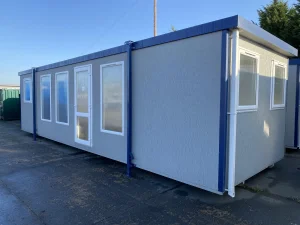 Product ID:2571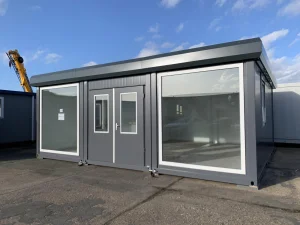 Product ID:2339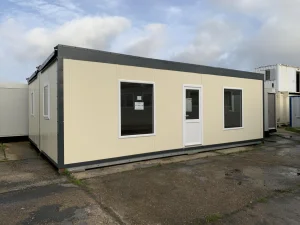 Product ID:2001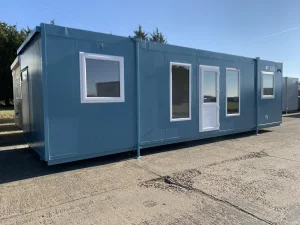 Product ID:1984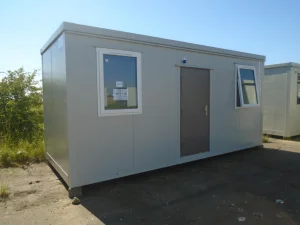 Product ID:2077
FAQS
What is a Marketing Suite?
A marketing suite is a modular building that can be relocated easily to any place providing a great way to showcase your business products and services in the best light possible.
Marketing suites are a great place for a showroom, to showcase your products and services. They are also a great place to have meetings and speak with clients.
Can a Marketing Suite be customised?
Our marketing suites can be fully customised to meet your requirements, whether small or large.
Marketing suite customisations include:
uPVC doors and windows in a

choice of colours.

Large feature windows.

Timber external cladding.

Installation of toilets and

kitchenette.

Air conditioning.

Carpet or vinyl floor covering.



In addition to standard offices cabins
can be enhanced to provide a more
executive look and feel.
How much is a Marketing Suite?
Marketing suites can vary in costs depending on your unique requirements. To get a quote for your own marketing suite, please contact our sales team with your requirements to discuss further.